These painted ladybug rocks are the perfect garden crafts to add a touch of whimsy, color, and fun and turn an ordinary garden into extraordinary. Come on in and see the ideas I've rounded up…
You're Going to Smile Ear to Ear when You See these Painted Ladybug Rocks
I know smile when I see these painted ladybug rocks, whether it's on Pinterest or in someone's gardens. Some people are just hiding them in random places to spread joy.
I'm all about whimsy when it comes to my gardens, so these adorable painted ladybug rocks will fit in perfectly. And the kids are going to love helping me paint up a batch… or two.
The first problem I'm going to have, though, is finding the right type of rocks. They need to be round or oblong and smooth. That's something that in short supply around my house (think jagged granite). Fortunately, I can buy them at craft stores or through Amazon, where they can be delivered right to my door.
The second problem I see is just deciding my style and color of ladybugs. That's right, color because they can be anything I — or you — want them to be. Lucky, I found a lot of ideas to be inspired by. If you want to add a bit of whimsy to your garden then I hope you can be inspired, too. Make sure to work your way to the end where you'll find how-to for your own painted ladybug rocks, printed and video.
This post may contain affiliate links. Please read the full disclosure policy here.
---
Start with Rounded, Smooth Rocks
Did you know you can buy smooth rocks for painting from Amazon? Free shipping, too.
Then pick your inspiration…
---
A Traditional Looking Ladybug Painted Rock
Take a look at the wing detail on these ladybug rocks below…
---
Or Mix Up the Colors of Your Painted Ladybug Rocks
These next ladybug rocks are simple and very colorful (and I think I can do these)…
---
There are No Hard and Fast Rules when it comes to Painted Ladybugs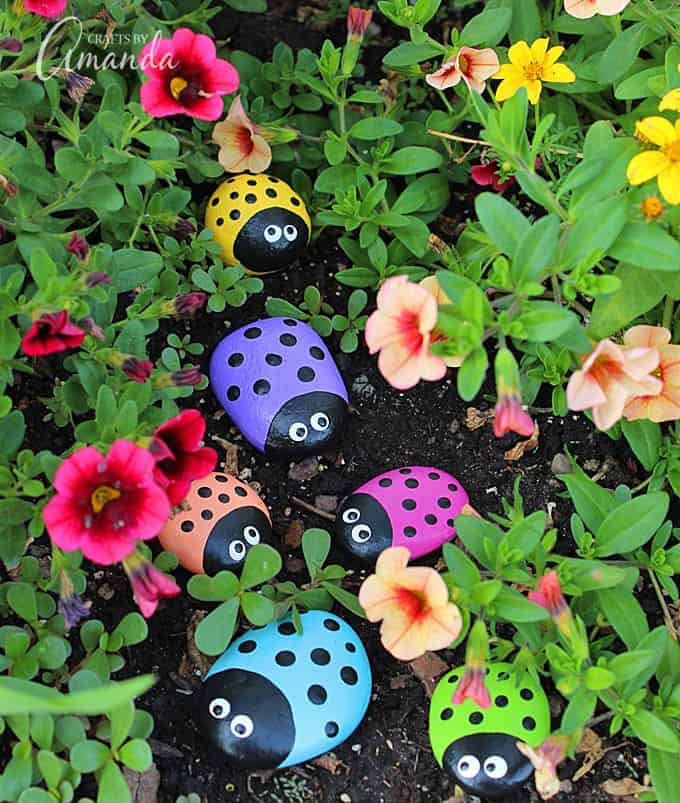 Kids will love painting their ladybug and adding googly eyes to them like the ones below…
---
Even the Kids an Help Paint
This kit below has everything kids need to paint rocks…
---
Get a Kit
Hiding ladybug rocks has become a popular activity and a good place to star is in the garden…
---
Then Find Creative Hiding Places for Your Painted Ladybug Rocks
Once you start painting ladybug rocks, it's only the beginning of so many other creatures you can create…
---
Think About Giving Your Ladybug Rocks a New Friend
Don't you think this rock below would make a wonderful gift idea for someone's anniversary…
---
Or a Ladybug Boy to Hold Hands With
You can make your ladybug crawl just about anywhere with some heavy-duty glue, even straight up a wall…
---
And Give Your Ladybug Rocks a Place to Hang Out
No time to create your own ladybug rocks? No problem. This artisan from New Jersey has you covered…
---
Hand-Painted Ladybug Rock at Amazon Handmade
Enough inspiration, let's learn how to paint some rocks…
---
 Here's How to Paint a Ladybug Rock
Or if you want your instructions on video…
---
How to Make Painted Ladybug Rocks (Video Tutorial)
If you want more inspiration on rock painting, check out the book below…
---
The Art of Stone Painting
---