These qurky outdoor planter ideas are some of the most fun garden crafts I've found. And none of them will be hard to duplicate for your own backyards or patios. Come see for yourself…
Unique Planter Ideas
I love adding a touch of whimsy to my home and one of the best ways is with unique outdoor planter ideas, like the ones I've gathered up below.
While I love beautiful, well-manicured gardens, I also love when those gardens can make me smile. I've always added something unique… a little funny to my gardens over the years. It might have been a village of gnomes and mushrooms or the wheelbarrow filled with flowers. Last year it was it was a well-used red tricycle that lost its seat and had it replaced with a planter filled with pink impatiens.
If you have a lovely garden, but it needs a little pizzazz, then these outdoor planter ideas have arrived just in time.
You'll find lots to work with here, from chair to boots to troll dolls. Make sure to work your way down to the end where you find a video showing you how to create a bicycle planter. I thinking of adding a full sized bike to go with the tricycle this year.
This post may contain affiliate links. Please read the full disclosure policy here.
I had to laugh when I see these troll dolls turned into planters. They're big sellers on craft sites, but you can make them easily yourself…
---
From Old Troll Dolls into Whimsical Planters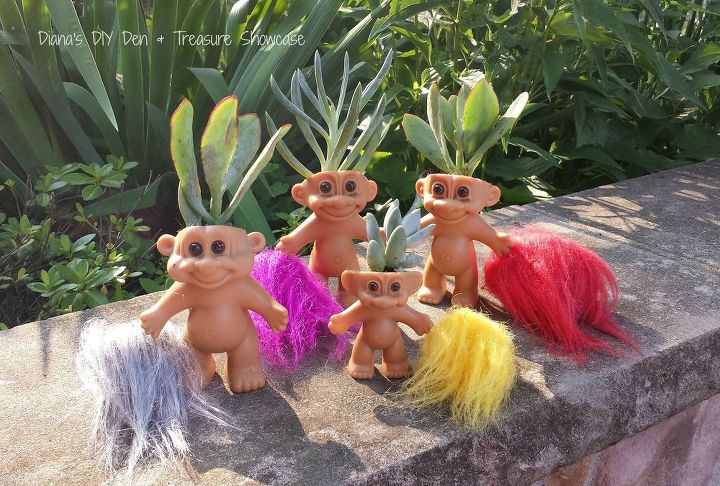 You usually see tipsy planters done with terra cotta pots, but this one using old galvanized flower pots and buckets is unique and fun…
---
Tipsy Tower Planter with Old Galvanized Pots
Chairs make great planter bases, whether wooden or metal like this next plant container…
---
Old Metal Chair Makes a Beautiful Outdoor Planter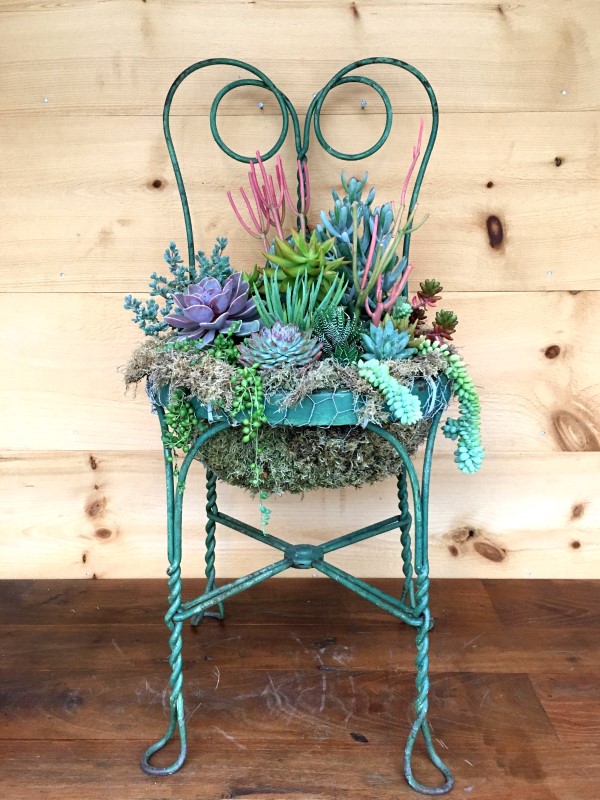 If you can find an old birdcage, then you have the beginnings of a beautiful and different planter, just like this one below…
---
Contain Your Favorite Succulents in a Pretty Birdcage Planter
If there's no time for creating your own unique planters, then Amazon can come to your rescue with some unique and pretty like this next idea…
---
Pretty Scalloped Planter Buckers
If you need to fill a space on a porch or patio, then find an old chandelier at a yard sale or thrift sale and turn it into a charming outdoor planter…
---
This Chandelier Planter is Easier to Make Than You Might Think
Oh, and while you at that yard sale, to overlook old and colorful colliders. Look what you can create…
---
Colorful Collider Planters to Brighten Up the Porch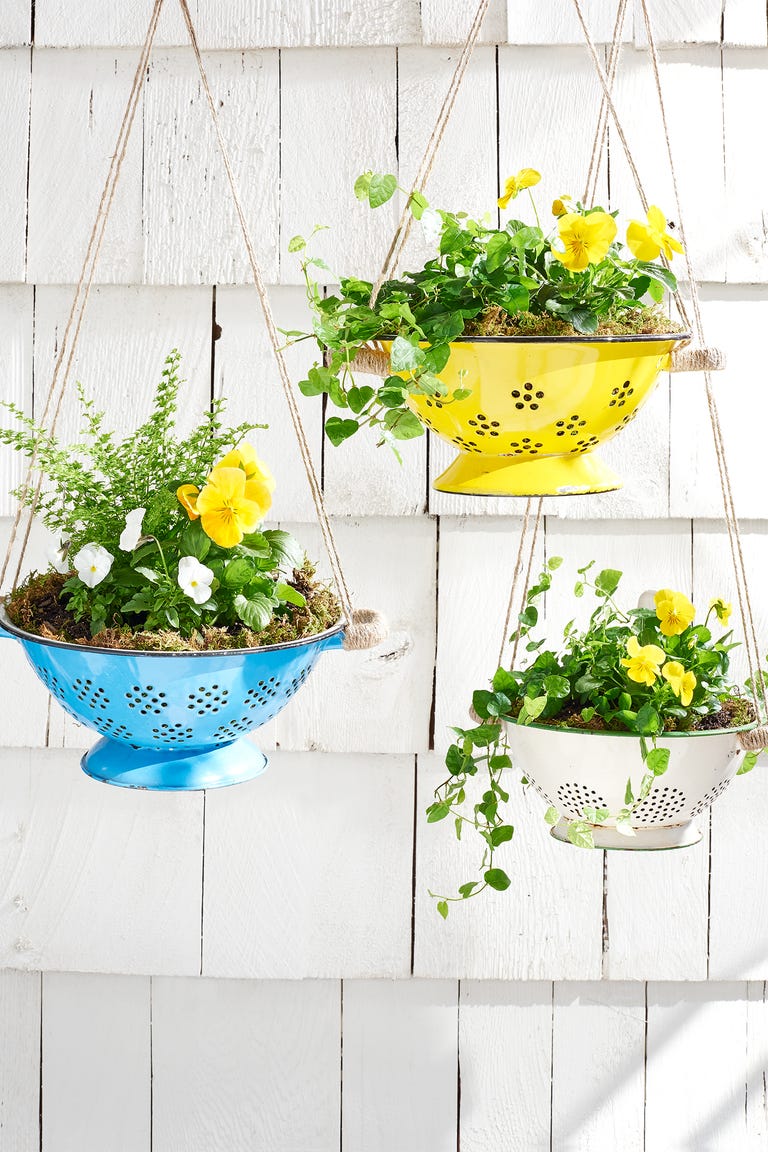 Old toy trucks can take on a new life in the garden and the more rust, the better…t
---
Rusty Toy Truck Takes on New Life as a Planter
If those cowboy boots are too tight to wear now, here's an idea to turn them into something pretty unique…
---
These Cowboy Boot Planters are One of My Favorite Outdoor Planter Ideas
Have you seen those living wall planters? What a wonderful idea, especially in a monogram, like the one below and artist who sell on Amazon Handmade can create one for you…
---
Unique Living Wall Monogram Planter
A simple old watering can be a standout when paired with an old red chair…
---
A Watering Can Makes a Simple Yet Unique Flower Pot
Speaking of cans, look at these "paint" flowing pots below. Just an FYI, they not old can (that might be toxic to plants), but they are new and painted up to get the look…
---
Paint Cans
source
I see old barbeques on curbs for trash pick up all the time, but what a clever way to upcycle…
---
BBQ Grill
Take a look at this next video tutorial and learn how to turn an old bicycle into a planter…
---
How to Create a Bicycle Planter
Still in need some ideas for your garden? Then check out this next book for outdoor planters ideas and more…
---
Handmade Garden Projects
---