If you're having a hard time parting with a much-loved pair of Levis, then check out the following old jeans projects and give them new life with these upcycle crafts. 
Creating Old Jeans Projects to Upcycle, Recycle and Give Life to Old Denim
I've been hoarding old, worn out denim just so I could use them for old jeans projects like the ones I've gathered below.
I've pilled up soooo many that now it's time to get them out of the closet and start working on one of these upcycle projects. But like so many of crafts I'm falling in love with, I'm having a hard time deciding which one to start with.
My first thought was turning an old pair of jeans into a maxi skirt. I even found a beautiful tiered skirt of purple velvet and sating that lost it's elastic. I see it taking on new life with the jeans top for an eclectic Boho look.
But…
Then I've been adding some red, white and blue patriotic crafts to the house and though creating a wreath for the front door with denim strips mixed with red banana strips.
But…
And therein lies the problem. I want to do all of these old jean projects. So, while I mull over what I want to start with, why don't you give these ideas a look. Especially if you've been hoarding old denim like me.
This post may contain affiliate links. Please read the full disclosure policy here.
---
Upcycle an Old Pair of Jeans into a Tiered Maxi Skirt
Turning an old pair of jeans into another type of clothing is just one option. Just look what else you can do…
---
Sew Together Old Blue Jeans Pockets into a Hanging Organizer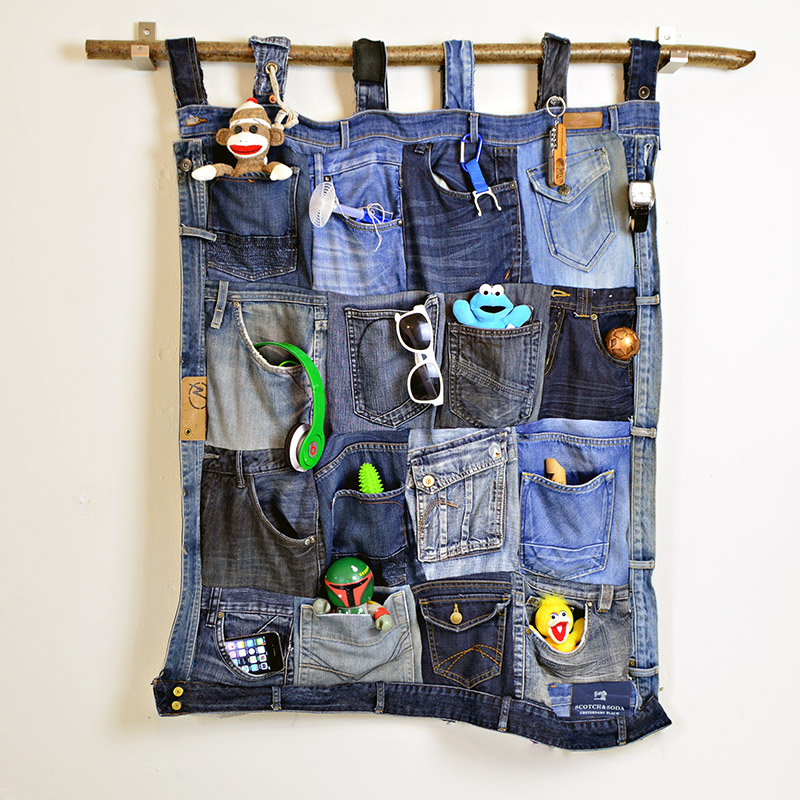 Lots of folks like the look of denim on the floor and turn old jeans into rugs like the one below…
---
Crochet a Blue Jean Rug
Or pillows…
---
Make a Throw Pillow with Old Blue Jeans
Or quilts…
---
Make a Patchwork Quilt from Old Denim Jeans
A lampshade is another clever option. Don't you love the pocket to hold your cell phone…
---
Turn Old Jeans into a Lamp Shade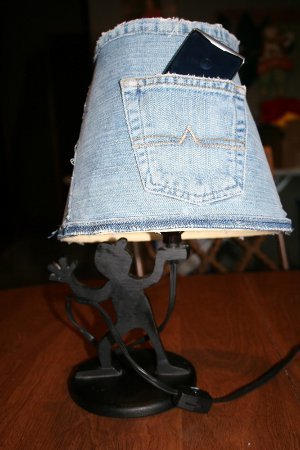 The back pocket on old jeans are a pefect place for silverware on the placemat below…
---
Recycle Old Jeans into Placemats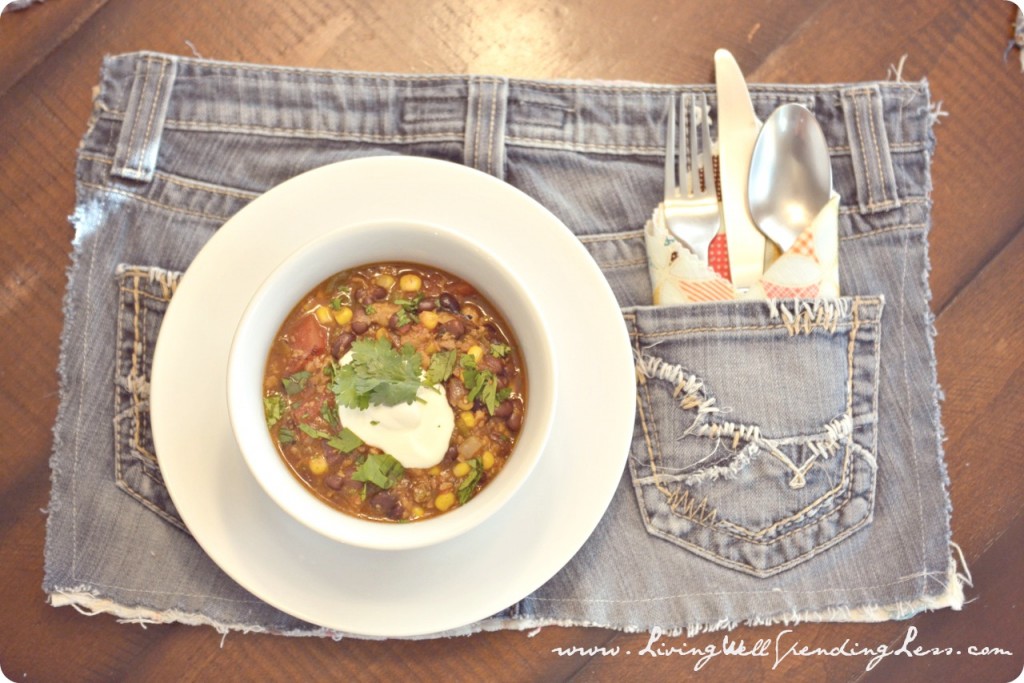 Rolled up strips of denim make cute decorative options for all type of project, just like this picture frame below…
---
Roll Up Denim Strips for a Unique Picture Frame
You can even make baby products with old jeans. This bib below lined with a fun fabric is a terrific gift crafts idea, too…
---
Make a Baby Bib from Old Blue Jeans
There are so many home craft ideas you can create with old denim jeans. This new wreath idea may be the one I create first…
---
Tie Denim Strips into a Wonderful Wreath
Looking for a unique way to hold your cell phone while it's recharging? This is coming craft fills the bill and it's so cute, too…
---
Turn an Old Denim Jeans Pocket into a Cell Phone Charger Bag Video Tutorial
I love the look of these next old jean project…t
---
Weave a Basket of Jean Scraps
And here's another variation coming up on a denim basket…
---
Sew Up Old Jeans Legs into a Basket
Did you know you can make pieces of old blue jeans into jewelry…
---
Create a Springy Warp Bracelet with Pieces of Old Denim
Very pretty jewelry like this below, too…
---
Make a Denim and Pearl Rose Necklace
Looking for may ways to upcycle, recycle or restyle old jeans, then check out this book on Amazon…
---
 Jeaneology – Crafty Ways to Reinvent Your Old Blues
---